Normally when you
install
new software
in your system you'd notice that some of them create
new entries
in your
right click
context menu of
Windows
. Not all but some programs do this by creating additional entries in windows
registry
. Your right click menu behaves differently
and shows
different options. It's shows less options when you right click on desktop and more when you right click on a file or folder.
The more you
install software
the more heavier and longer right click context menu becomes. Ever wondered how to remove those unwanted
applications
or shortcuts from your right click menu? Well, there are many tricks to edit right click entries through windows
registry editor
. But why go for that risky and complicated methods when you have applications like Right Click Extender.
Right-Click Extender is a free and tiny
application
that allows you to add or remove many additional options to a Drive, File, Folder, Computer and Desktop's Right Click Context Menu.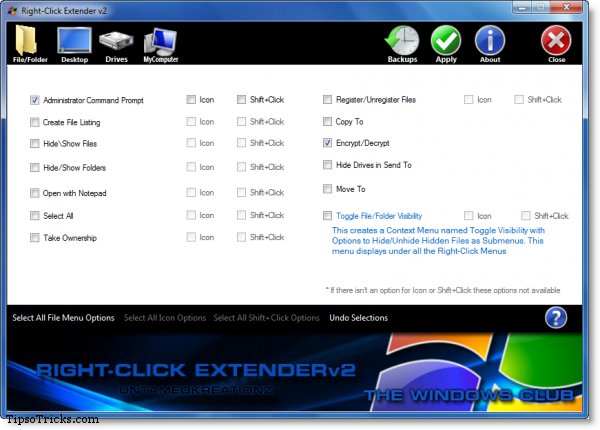 Simply run the self executable application and check to add items to Right-Click Menus and press Apply. To remove the items, uncheck the boxes and click Apply. The menus also adds icons next to available Menu Options.
You can also add each item to the Hidden menu that is viewable by hitting Shift+Click. Under Settings you have the option to create a Backup of Registry or Creating a System Restore Point before making changes . You can optionally Restore the Backup and open System Restore Point to Rollback your changes.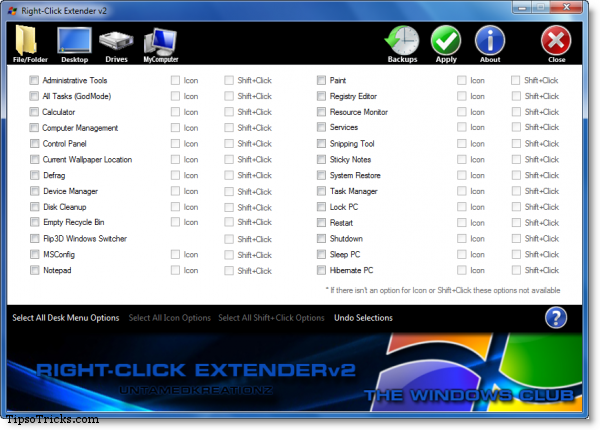 Upon first run the application will generate a Backup folder of the Registry which can be restored using the same application at any time if you have a problem or want to return to default settings before the applicationwas run.
A very useful application for all those who want to take down unnecessary options from right click menu. But for geeks, adding administrative functions like control panel options and hidden menu is now just a click away.
Labels: Tricks , Windows